Home
Posted 07/01/21

Your volunteer HOA Board of Directors would like to wish all of Eagle Point a wonderful Fourth of July weekend! Please relax and stay safe.
If you plan to use fireworks this weekend, please use extra care. There are still a number of homes in Eagle Point with severe damage that could catch fire easily, including tarps on roofs and boarded windows. These residents feel vulnerable enough, so your consideration will go a long way in giving them peace of mind.
Since more pets run away on this holiday than any other because of anxiety from fireworks, please keep your pets inside as much as you can! Make sure they are wearing collars and that any chip information is updated so a neighbor could easily contact you if you pet escapes.
We all hope that fireworks will begin and end at reasonable hours. A great option would be to simply enjoy the fireworks show planned at Eagle Point Swim and Tennis around 8:00! They can be seen from many vantage points throughout Eagle Point.
We realize not everyone loves fireworks and ask for your patience. Your volunteer Board will not be available to police the neighborhood. We ask that you refrain from posting complaints and negative comments on the neighborhood Facebook page - they will be removed. If you have had an issue with a neighbor's fireworks in the past, try speaking to them ahead of time to explain your concerns. If there is something dangerous happening, call 9-1-1. Just remember that deputies are already busy on holiday weekends!
Enjoy celebrating Independence Day 2021!
Posted 07/01/21
"Notice to All Eagle Point Homeowners from the EPHOA Board"
We have learned that Covenant Violation letters were recently issued to several homeowners WITHOUT our prior knowledge or approval. These letters were issued by personnel with our Management Company who have only recently been put in the position of overseeing our covenants and who made a judgmental error in issuing the violation letters. We will be taking immediate steps to retract these notices by issuing letters of explanation to every homeowner affected. It has been the policy of your EPHOA Board to suspend any possible violations since the devastation of the tornado until such a time as this community can make their repairs and return to "normalcy". We certainly had no intention of adding to the problems and frustrations our community is facing at this time, as some of us are still in the midst of repairing/rebuilding our homes. Please consider this post a retraction until individual letters can be mailed.
Again, our sincerest apologies for this occurrence.
- The Board members of the EPHOA
Posted 07/13/21
Please read the attached link regarding Cahaba Valley Fire District's quality improvement plan information. It involves a SIGNIFICANT dues increase, and I encourage you to be informed. The public meeting dates are shown on this post. We have a Board representative set to be at tonight's meeting.
- Eagle Point is divided into different areas, some residents served by CVFD and some residents served by North Shelby Fire Department. This is for residents served by CVFD.
https://www.cahabavalleyfire.org/2021-improvements/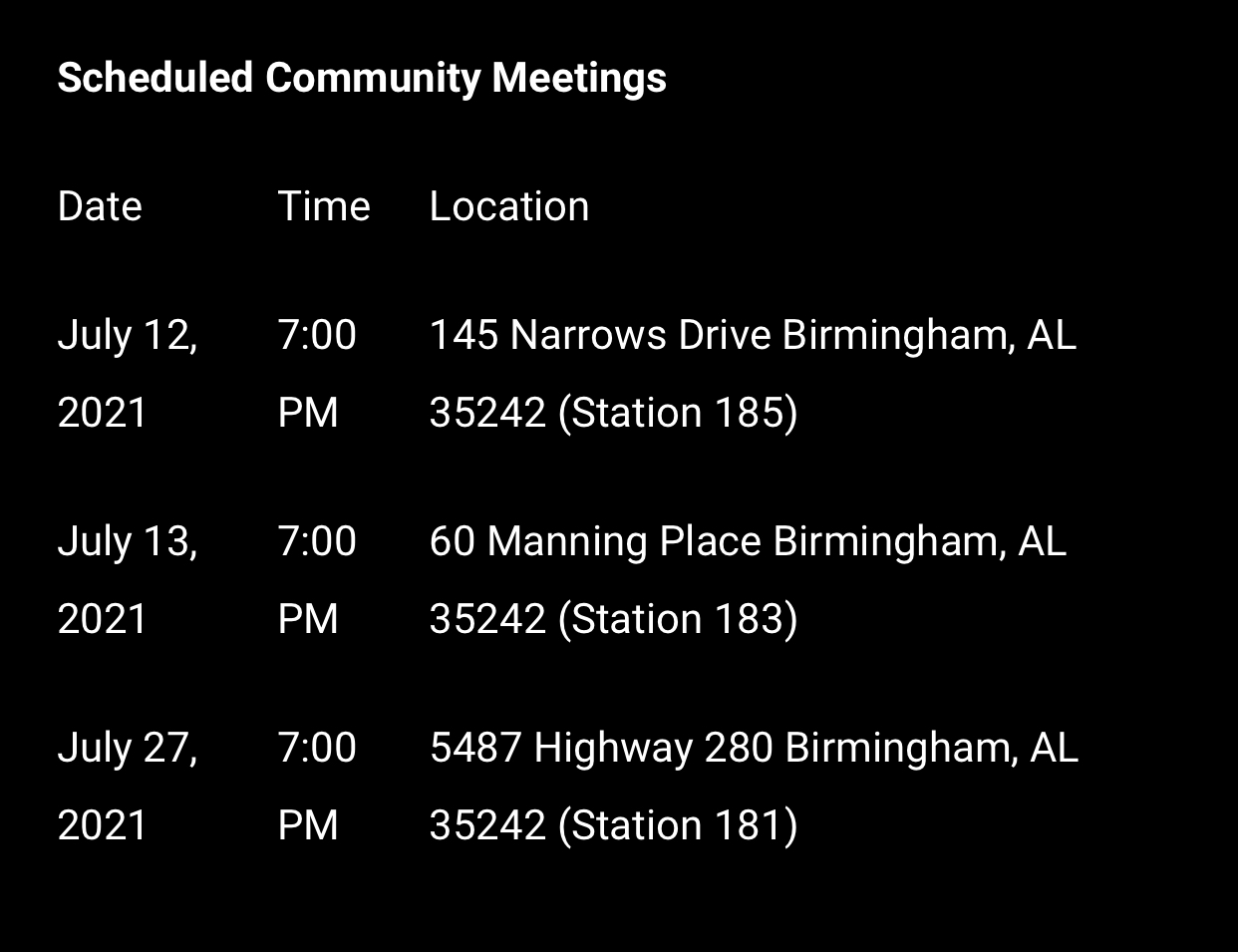 Quick Links
Post Archives